20 October 2023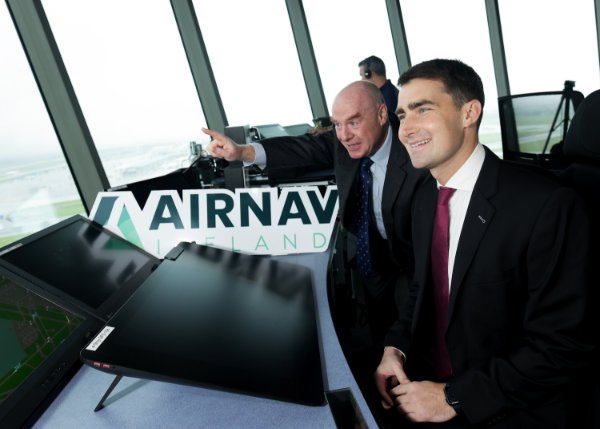 Minister of State Jack Chambers launches AirNav Ireland, the new Air Navigation Service Provider
Company to train 240 Air Traffic Control students over the next 10 years.
AirNav Ireland set up after Government separation of air traffic management & air safety regulation.
20th October 2023: AirNav Ireland, the new air traffic management service provider for Irish airspace, was officially launched by Minister of State with responsibility for Aviation, Mr Jack Chambers T.D.. The launch takes place on World Air Traffic Control Day.
AirNav Ireland provides air traffic control services at the State airports of Dublin, Cork and Shannon and air space covering 455,0000 square kilometres.
AirNav Ireland's Air Traffic Controllers at the North Atlantic Enroute Centre in Shannon safely handle over 90% of all aircraft that operate between North America and Europe.
The AirNav Ireland North Atlantic Communications Centre in Ballygirreen, Co. Clare provides a long-range High Frequency Radio (HF) communications service for Oceanic Air Traffic Control in the eastern half of the north Atlantic.
Speaking at the launch this morning, Minister of State Chambers said:
"I am delighted to be here today, on International Day of the Air Traffic Controller to officially launch AirNav Ireland, Ireland's stand-alone air navigation service provider. Its establishment represents the delivery of a key Government policy to support global connectivity and futureproof aviation regulation in Ireland.
Given the central role air traffic management plays in supporting the global air transport market, AirNav Ireland represents a strategically important State commercial body. I have every confidence that AirNav Ireland will continue the strong tradition of innovation in Irish aviation and will be to the forefront of innovation in European air traffic management in the years ahead while keeping safety as its core focus. I wish the company every success as Ireland's new stand-alone air navigation service provider".
Dr. Peter Kearney, Chief Executive AirNav Ireland and a former air traffic controller and pilot, said the challenge for this new company was to take aviation safety to the next level in an efficient and sustainable way to meet future demands.
"We are committed to investing in training and developing new air traffic control officers and we currently have 28 students in various stages of training with a further 24 starting in February. We plan to train a further 240 suitable candidates for careers
in air traffic control over the next ten years, while employment opportunities in engineering will be available in 2024," he said.
AirNav Ireland manages the safe passage of over 1 million flights in Irish airspace, including those en-route to international destinations as well as those landing and taking off from Irish airports.
Its team offers innovative solutions, a clear airline customer focus and commitment to the safety values. It will focus on safety, efficiency, and service through continued investment in our people and technology. It also works with other European Air Navigation services to research and develop new technology to build on the high-quality aviation safety currently provided.
Mr. Bryan Bourke, Chairperson of AirNav Ireland said that Ireland's new stand-alone air traffic service provider represents a strategic investment in expertise and high-quality infrastructure to enhance economic growth and prosperity for Ireland.
The launch coincides with the 101st anniversary of the first internationally agreed air traffic control rules, drafted in 1919 by the Commission Internationale de Navigation Aérienne (CINA) and ratified by 10 countries in 1922.
Air Nav Ireland has been separated out as a stand-alone entity from the IAA. It is a commercial semi-state company employing 630 people at six locations around Ireland.
AirNav Ireland receives no State funding. Its revenues are generated through charges and fees raised from its airline customers in respect of its operational activities.
End
Full details about the company and the career opportunities are available on www. airnav.ie
Contact: David Curtin @ 0862832123